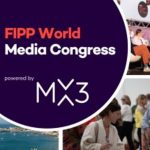 FIPP World Media Congres 2024
The 46th FIPP World Media Congress takes place from 4-6 june 2023 in Cascais, Portugal, on the outskirts of Lisbon.
The FIPP World Media Congress is the flagship annual conference for the worldwide magazine media family and its counterparts in adjacent media and tech sectors. Organised and hosted by Media Makers Meet – Mx3, FIPP Congress gathers top speakers, media decision-makers, tech partners and other service providers from 40+ countries every year.
FIPP has a proud heritage in magazines dating back to 1925, when it was founded in Paris, France. Nearly a hundred years on, FIPP continues to provide its worldwide members with opportunities to learn, connect, engage, and do business at the intersection of media and technology.
Today, magazine media transcends mere products; it is an idea that embodies the ideals of the communities they serve. Magazine media inspires their communities in beautiful, inspirational and delightful ways. Magazine media rises above platforms; it creates relationships with their communities, whether in print, online or across multiple platforms.
Congress is the heartbeat of the worldwide magazine media industry. It is the only real gathering of the global magazine media community and adjacent sectors annually, including creators, publishers, technologists and other industry service providers.
If you wish to register for Congress 2024 now, the registration page with the launch offer is available here