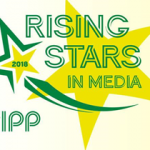 FIPP Rising Stars in media: talent gezocht
Have you made a significant impact to your media business within the last 12 months? Have you demonstrated outstanding talent or innovative initiative? Is there a member of your team, under the age of 35 who you think deserves international recognition?

If the answer to any of these questions is yes, then FIPP wants to hear from you. Sponsored by UPM, The Rising Stars in Media Awards reward young, talented individuals who have produced outstanding work within the industry and have delivered above and beyond expectations.
Meer informatie vind je hier.