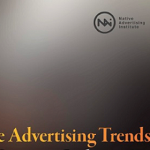 1/3 van advertentie inkomsten afkomstig van native advertising in 2018
In 2018 zal eenderde van de advertentie inkomsten wereldwijd afkomstig zijn van native advertising. Dit blijkt uit het rapport 'Native Advertising Trends 2016 – the Magazine Industry'. Dit internationale onderzoek onder publishers is uitgevoerd door The Native Advertising Institute en FIPP. Het rapport bevat informatie over het belang en het gebruik van native advertising.
Download hier de rapportage.
Bekijk hier de infographic.
Lees hier het volledige artikel.