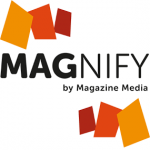 Magnify by Magazine Media
Magazine Media Associatie's (MMA) Belgische collega's nodigen de leden van MMA uit voor een eerste – en zeer interessante –  exclusieve bijeenkomst 'MAGNIFY by Magazine Media' op vrijdag 6 oktober a.s. in Brussel.
De bijeenkomst is van 09.00 uur tot 14.00 uur in Flagey Building in Brussel (inclusief gratis lunch en parkeren). Een mooie kans om inspiratie op te doen!

Onder de naam MAGnify geven vier toonaangevende internationale sprekers hun visie op de belangrijkste zaken die op dit moment in onze branche spelen:
Magazines offer you engaged audiences.

The power of a media brand effects the brands that advertise in it. That's why your ad will benefit from the trust that the magazine has built up with its readers.
Brands use magazines' creative possibilities to stand out.

An ad you can smell or taste? A packshot that glows in the dark? In magazines anything that tickles the five senses is possible!
Magazine-makers are storytellers by nature.
They are pioneers and experts in keeping the right balance between editorial and commercial content. This is where native advertising fits in your content strategy. People love beautiful stories. And for a brand it's great to be part of such a story.
Magazine ads are not intrusive: readers see them as complementary info.
The word "magazine" is derived from the French word "magasin", a place of commerce where customers take the initiative. A shop is inspiring and not intrusive. No wonder then that magazines are the most trusted medium for consumers.
Cross-media solutions in magazine media enhance ROI substantially.

The cross-media approach of magazine editors offers you more chances to reach your target groups via different platforms.
De sprekers zijn:

Praktische informatie
Datum

6 oktober 2017

Tijd

8.45 (registratie) – 14.00 (einde)

Locatie

Flagey Building in Brussel
Shuttleservice vanaf Parking Indigo Rue de Livourne 11 – 1060 Brussels
Meer informatie
Lees hier meer over de sprekers, het volledige programma en de mogelijkheid tot aanmelden.