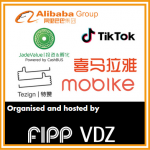 FIPP/VDZ Digital China Tour
Impossible to ignore, China is the world's second largest economy and a major digital disruptor. You can learn from Shanghai's tech leaders by joining the FIPP & VDZ Digital China Tour, taking place from 20-23 October 2019. 

Bringing together up to 20 senior-level international media executives, our agenda plans personal meetings with the experts of Alibaba, Tencent (WeChat), Tezign, Tik Tok and more, plus trend presentations from the Shanghai Media Group and The Paper, the Chinese counterpart of the The New York Times (subject to change).
What topics will we cover?
The participants will be introduced to field tested innovations, initiated by successful digital companies as well as to system solutions of highly creative startups. The scope of topics for the trip reaches from new business models and their implementation in the digital and mobile publishing area, to the developments in the fields of ad Technology, content creation, e-commerce, social networks, big data and targeting.
Why China?
China as a country for global innovation and digitalisation has rapidly increased in importance in the last years. With internet companies now almost the same size as American counterparts, a huge domestic market and great global ambitions, it is more important than ever for us to understand the technology and innovation coming from China.
The power of 1.3 billion consumers
With the world's largest population, a fast-growing middle-class and increasing purchasing power – just by being "big in China" automatically makes any company one of the world's largest.
Mega-cities unlike anywhere else
With over 100 cities with more than 1 million in population, expected to double by 2025, and
megacities such as Beijing and Shanghai with more than 20 million residents, China is experiencing new unique challenges that come with densely populated areas. This feeds innovation in a never seen scale before.
No old tech legacy
In the late 90's and early 00's almost no one had internet nor computer in China. When smartphones came, it became the first and only access to the internet, building an entirely new generation of consumers without any old habits resulting in a much higher adoption rate of new services such as mobile payments, messaging and e-commerce.
Tour at a glance
Tour theme: Next generation innovation from China's digital leaders
Number of meetings: 10-12
Companies to be visited (subject to change): Alibaba, JadeValue/CashBUS, Ximalaya, Tik Tok, Tezign, Mobike plus more to be confirmed…
Location: Shanghai, China
Duration of tour: 20-23 October 2019
Participants: Up to 20 senior-level international media executives
Rate: FIPP and VDZ members: Early Bird until 30 June: €4,990/Standard: €5,990. Non-members: Early Bird until 30 June: €5,990/Standard: €6,990
Rates include: Organisation of all company visits, joint lunches and dinners at selected restaurants plus 3 nights accommodation. FIPP, VDZ and the organisation team will be on hand all the time, allowing you to focus squarely on meetings and the overall experience. Post the tour, participants will receive meeting presentations (where available) and contact details of people visited.
The FIPP & VDZ Digital China Tour will be designed to offer you first-hand insight into next generation innovation from companies and people that matter covering topics such as:
New business models and their implementation in digital and mobile publishing
Ad technology, content creation and e-commerce
Big data, targeting and social networks
Successful digital companies as well as highly creative startups