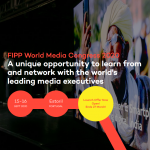 FIPP World Media Congress 2020
A unique opportunity to learn from and network with the world's leading media executives.


Two intensive days of insight, innovation and inspiration
The packed conference agenda brings cutting-edge thought leadership, hard-hitting analysis, ground-breaking case studies and up-to-the-minute innovation from across the industry, all designed for you to take back and implement in your business.
Learn more.
70+ presentations, fireside chats, panel discussions and workshops
Hear from leading international media executives. Sharing experiences and insights from across the media industry. Learn from their experiences. Consider the trends they see coming. Find out how they are future-proofing their businesses and brands.
Learn more
Unmissable networking
Make critical connections with colleagues from around the world. Join key decision-makers from across the world to network, schedule one-to-one meetings with our Deal Room software, share ideas and do business. This vital networking opportunity, combined with our conference programme, makes Congress the industry's flagship global, must-attend event.
Learn more
Do business
Two intensive days. Hundreds of international businesses brought together to be inspired and make connections. Whether you're a publisher showcasing brands and content to global partners, an innovative tech business or a nimble newcomer, the FIPP World Media Congress provides you with an unparalleled opportunity to meet face-to-face with key decision-makers from the global media industry. And this year, for the first time, the Congress takes place in association with Distripress, the international media distribution association, delivering an additional, complementary audience.
Sponsorship opportunities
Beautiful location
The Congress takes place in stunning Estoril, Portugal. A 20-minute scenic drive from Lisbon, Estoril is a stylish beach town set on the Portuguese Riviera in the municipality of Cascais The Estoril Congress Center, venue for FIPP World Congress 2020, is an architecturally stunning venue surrounded by gardens with a sea view. A certified green venue, it offers an auditorium, break-out rooms, ample exhibition space and lots of natural lighting.
Launch Offer Now Open! Ends 27 March!
With special offers for early bookers, international delegations, Rising Stars in the industry, and more, there are plenty of ways to attend the FIPP World Media Congress. If you haven't attended a Congress before or have specific questions, feel free to contact FIPP here.
Practical information
Date

15-16 september 2020

Venue

The Estoril Congress Center
Av. Amaral, 2765-192 Estoril, Portugal

Location

Estoril, Portugal

Website