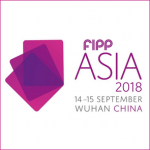 FIPP Asia 2018
FIPP Asia will take place in Wuhan, China, in partnership with the China Periodicals Association and Hubei Administration.
The event will bring together the world's leading magazine media publishers and industry suppliers to explore the latest trends and solutions from the region and beyond.
The event will consist of a two day conference (14-15 September) with speakers from around the world and an adjacent expo (14-16 September) attracting some 100,000 people across the 3 days.
If you want to know the way of the world tomorrow, it is a pretty good idea to look at China right now.
Ross Sleight, a keynote speaker at the FIPP World Congress in London in 2017

Who should attend FIPP Asia?
FIPP Asia presents an ideal opportunity for publishers, marketers and technologists at senior level operational and strategic positions, network and do actual business.
It will be an opportunity to learn from speakers from China and other markets around the world, to network with Chinese and international delegates and to discuss business opportunities in China and beyond.
The expo will provide international delegates with an opportunity to first-hand sample media and technology offerings, and discuss market developments in-depth with those in attendance.

About Wuhan and its media landscape
Wuhan lies on the banks for the Yangtze and Hanshui Rivers and is the capital of Hubei Province.. A trading port dating back at least 2,000 years, today Wuhan remains one of China's most important in-land transportation and communication hubs.
Hubei Province has a population some 60 million people, contributing a 7th of all tax proceeds in China. It has a robust media environment, with some 120 newspapers, 400 magazines, printing presses, TV stations, and more. Among magazines, it includes brands with circulations well above 2.5 million.
Not unlike other media markets around the world, media heads in Wuhan describe the transformation from print to digital as their main challenge. Within this, culture – or overcoming attachment to legacy values and ways of doing – plays a significant role.
While dealing with these challenges, multi-platform growth is a major focus. Here, on a recent visit from FIPP to the city, publishers and government officials in several meetings expressed the desire to build international relationships and business partnerships, across print, digital, events and more.
Only some 2 hours by plane from Hong Kong, Beijing or Shanghai, FIPP Asia will be a must-attend event for international delegates interested in understanding and doing business in China and the wider Asia region.
Whether it is the speaker programme with its international, regional and local speakers or the expo with its tech and media exhibitors, there will be something of value at FIPP Asia for international delegates to do. Get involved.