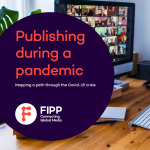 FIPP Report: Publishing during a pandemic
Mapping a path through the Covid-19 crisis.
The coronavirus crisis represents the biggest opportunity – and biggest challenge – for our industry in 75 years. The rapid changes that we're seeing in the way that consumers access our content is accelerating many of the trends that we had been seeing for many years. Our response will determine the shape of the industry for decades to come.
FIPP's mission remains to share knowledge, to enable cooperation and networking across the world, and has a key role in recording the impact of this crisis. More importantly, FIPP also has the responsibility to record how the magazinemedia industry faces up to these challenges.
This report marks the start of FIPP's effort to track the impact, response and ultimately the survival strategies of the magazinemedia industry in the response to Covid-19. By doing this, FIPP intends not only to record the process of dealing with this crisis but also to map strategies to overcome future challenges.
Download 'Publishing during a pandemic' now
Source: FIPP, Connecting Global Media